Latest Releases

We are proud to announce our latest releases with new features our team has been working hard on. In response to requests from our Organisers, we have now released Reserved Seating, and have also optimised our Check in App. Below is a summary of these features and more.
Reserved seating:
If you would like people to choose their own seats at your event, reserved seating will work perfectly for you. Using this feature, you can create your own layout whether it is for tables, theatre style or even a blank layout where you set it up as you like.
Setting it up is also very simple- here is a brief run down:
· When setting up the ticketing for your event, make sure you create a RESERVED SEAT ticket type.
· Once you have created this, you can enter the settings for the ticket, such as the name (ie General Seating, VIP etc), the cost, as well as how many you would like to sell, and when you would like ticket sales to start and end. Once you have set up all your different ticket types and saved them, you can then select SEATING PLAN.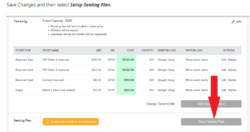 · Now you can select the type of seating plan you would like to create and customise it as you choose. You can move, rotate, delete and reposition items, allocate tickets to certain seats, add text in any size and font, as well as add in extras such as a stage, exits, bathrooms etc.
· Once you have allocated all seats either to a ticket or as Not for Sale, you can publish! You have now created your seating plan.
For more detailed information on how to create your reserved seating plan please click here, and remember you can contact us any time and we would be more than happy to help you create your own or answer your questions. Please also note that this is our Beta version, with the full release coming shortly.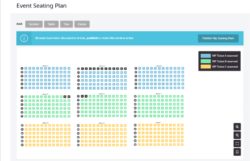 Checkin App
Our checkin app now has a new and improved layout and UI design. It now has better performance over slower networks, you can see attendance statistics in real time, and also new is the ability to sell tickets and take payments at the door.
All check-ins are synchronised with our servers, so you can use multiple devices at different points of entry and not worry about the same ticket being used twice.
Some of the new features are:
· Wireless ticket scanning with your Android and iOS devices
· Easily validate ticket bar-codes using the camera on your device
· Look up and check-in attendees off a list – search by first name, last name, email or browse the list
· Easily sell tickets at the door and accept credit card payments, with the ability to select which tickets can be shown and sold with the check in app
· Check in time at the door reduced by allowing a 'Check in All' feature, so you can check in all tickets automatically under the one booking
· Check-out tickets to manage guests who exit and re-enter the event
· Check-in attendees using multiple devices at the same time
· View attendance statistics in real time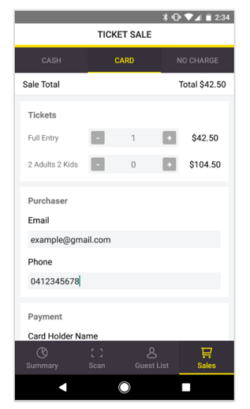 Please note: If you would like to check in tickets without using our Check in app, you can now check in attendees for live events using Bluetooth, or a USB scanner plugged into a laptop.
Ticketing:
· As an organiser you can now provide a bulk ticket discount and provide a minimum and maximum quantity that can be purchased.
In the works….
· We are currently working on releasing our email/SMS reminders for events, the ability to split ticket sales into multiple bank accounts, and expanding ticket purchasing payment options. Keep a look out for it, as we are expecting to release it shortly.