Latest Releases

Thanks for your feedback- we've been listening!  As a result, we're excited to tell you about our latest releases…
Notifications. You can now stay in touch with your attendees/guests with SMS and email notifications. Send a reminder message before your event or let them know of any changes. Stay connected!
Reserved Seating:
We've also made improvements to our reserved seating:
Minimum order for reserved seating- Minimum Per Order is now available as an advanced setting for Reserved Seat tickets
Ability to select table shapes on a seating plan- You can now select a rectangle or round table.
Option to select different colours for table colours- Red, yellow and blue now available
New 'Group Reserved Seating' ticket type available
Ability to add more than one table at a time to the seating plan
Many changes/improvements to UI for reserved seating
No reserved seating fee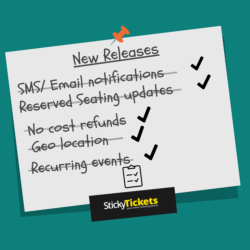 Live chat is now available in more locations.
No cost refunds. There is now no cost to the organiser or ticket purchaser for refunds. All booking fees are fully refunded.
Organiser Page- the current event list view on the organiser page has now been increased to 20 events.
'Order Success' button. Add a customisable button on the 'Order Success' page.
Split payments- the fee for split payments has been reduced.
Recurring events- Organisers can select the recurring frequency of their events, ie daily, weekly, monthly.
Add to Calendar function- allows reminder intervals and add hyperlink.
Geolocation-  Identifies the location of the ticket purchaser and lists all relevant events by the organiser nearby.
Sales page- Add ticket holder name to the sales list page.
Stay tuned and stay in touch- we're already working on more!