Holding Meetings in December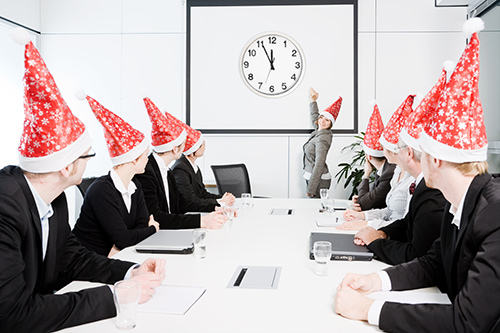 Holding meetings in December is a tough task! No one is focused on work- everyone is wondering what to get for Christmas, where they will go on holidays, how they won't even have to think of work soon…. It is an uphill battle to engage people in a meeting over the holiday season. BUT if it is something you must do, here are some tips to help make it more productive:
• Don't pretend that it's not the holidays. Explain why you have to have the meeting, but also
try and incorporate fun time. Let your attendees know that there is work to do, however there
will be time afterwards that is fun and festive. People are more likely to knuckle down if they know there
will be time afterwards to relax.
• Don't hold your meeting somewhere boring! Consider changing the scenery up a bit- outdoors or
even a nice coffee shop can be productive and much more enjoyable.
• If you do hold your event in a different location, make sure your attendees are not out of
pocket for anything- coffee, parking etc. This is an expensive time of year for everyone and
will certainly start the meeting off on the wrong foot if they are paying to be there.
• Give everyone a task or area to report on in the meeting. This way they will have to
participate and be engaged.
• Make sure that whatever information or training you provide, that it will be retained. If
during your presentation your attendees are thinking of going to the beach, the meeting is not
productive. Consider sending out a summary email when things go back in January to help them
recall the content.
• Keep it short! Keep your meeting short and keep it moving. If you set a pace at the start,
attendees will realise you are powering through quickly, and will be more likely to pay
attention.
• Recap successes of the year. End the year on a positive note by highlighting all the good
things that have happened over the course of the year. Make your attendees feel good and even
motivated for next year!
Meetings can be difficult to make productive at the best of times, but Christmas is certainly a challenge. However if you make it festive, incorporate fun, and keep it fast paced, you will have a much better chance!